I am in the process up updating this section, to make it a bit easier to find yourselves or say who you are, so that I can add you to the site.
Click HERE to go to the new system I am setting up for the Juniors of 78, and you can see if you are there. You can click on the people in the picture to get more information on them too (in some cases anyway)
Tracing Duncan Hall School boys can be an long process, after all, we are all over the world now!
I will all new pictures as they become available to us.
This all started when I contacted Kumars Moghtader this month, whilst trying to find old boys. Kumars had some pictures of school line up's that I duly examined and tried to fill in the banks on. This is a hard task, after all it was 20 years ago!!!
Anyway, the people we have identified are on the right, along with anything we might know about them. The following abbreviations have been used;
D = Deceased
? = location not known
X = Requested not to appear
In some cases, pictures might link to an e-mail address. This all depends on whether an e-mail address is known.
In the gallery there are a few group photographs. If anyone there is you, or if you recognise someone, then why not e-mail with more information, and I will put it on. We would love to hear about old pupils, teachers and especially Mr Kauffman.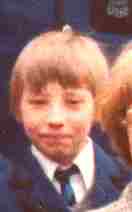 James Kittle : ?
Some of the following may not be 100% accurate, however I will try not to use rumors wherever possible.
Kumars Moghtader is living is LA in the USA, and works for Lucasarts, making merchandise like toys and so on from the Star Wars and Indiana Jones range.
Crispian Flitton changed his name and moved to the North of England, where he own a childrens safety company. He is married with 4 children.
Toby Kassell went to ballet schools around the world, before graduating and becoming a ballet dancer performing all over Europe. He is married with a new baby daughter.
Mick Blackesley is living in Yorkshire somewhere. (Sorry Mick, I will put in more as I get to know more)
David Rawnsley died in the mid 80's of a heart attack. I am assuming his holiday business and so on were taken over by his son and daughter.
I dont know if Mrs Rawnsley is still alive. Is she is, and is reading this HELLO, THANKYOU FOR THE SMARTIES. (Forgot to say that years ago.)
Mr Boswell died in the 80's too, I only vaguely remember him as the one who gave out those plastic chess sets to the boys on a sunday.
Mrs Boswell is probably dead by now, however I doubt this will stop her from trying to teach juniors when it comes down to it.
Mr Kauffman the sciences teacher is probably back in the USA by now. Best remembered for looking like an extra from National Lampoons Animal House.
Patrick Manifold is still alive and teaching at the Roman Catholic school in Great Yarmouth. Married with 3 daughters. Lets hope the years have mellowed him a bit.
Phillip Anthill left the school in about 79, to go to the USA as I recall. If you ever see this Phillip, please get in touch.
Neville Chainey's parents lived in the school grounds, managing the large gardens. I imaging he is still there somewhere.
Simon Temple is apparently living in Great Yarmouth from what I hear. The rumor that he had a poo in the urinals because he thought they were a special kind of toilet is true (allegedly)
Mr Searle was the public face of the school. As Principal, he met parents etc. He had been a Flight Lieutenant in the RAF and started DHS after leaving after the war. Searle was an odd fish, never married and had allowed favoured boys to stay with him at his cottage just outside the grounds, although I know of no rumours attached to this. He was a great prison visitor, which could explain some of the staff! Searle was crazy about the choir and also taught music badly. Not known as a beater and flogger, but liked to be present when the head caned someone. Oh yes, he proundly told us once that when he got drunk at his club (Lions?) he liked to strip off and swim naked in the pool. Oh oh!
Mrs Chainey was the school cook during the late 70's, early 80's.